I started my business with an old, red pickup truck in 1984. It wasn't new, even then, and it wasn't branded or flashy. But it got the job done.
As my business grew and I realized the importance of branding, the Grunder-Green truck was born. Since 1995, our trucks have all been the same shade of green with an all-white logo and our phone number on them. We've made improvements over the years, changed the standard models we used, and customized our toolboxes and beds to fit our needs as they've changed.
The result is a truck that works for us: the branding helps us have strong name recognition in our area and customizations to make work easier for our crews.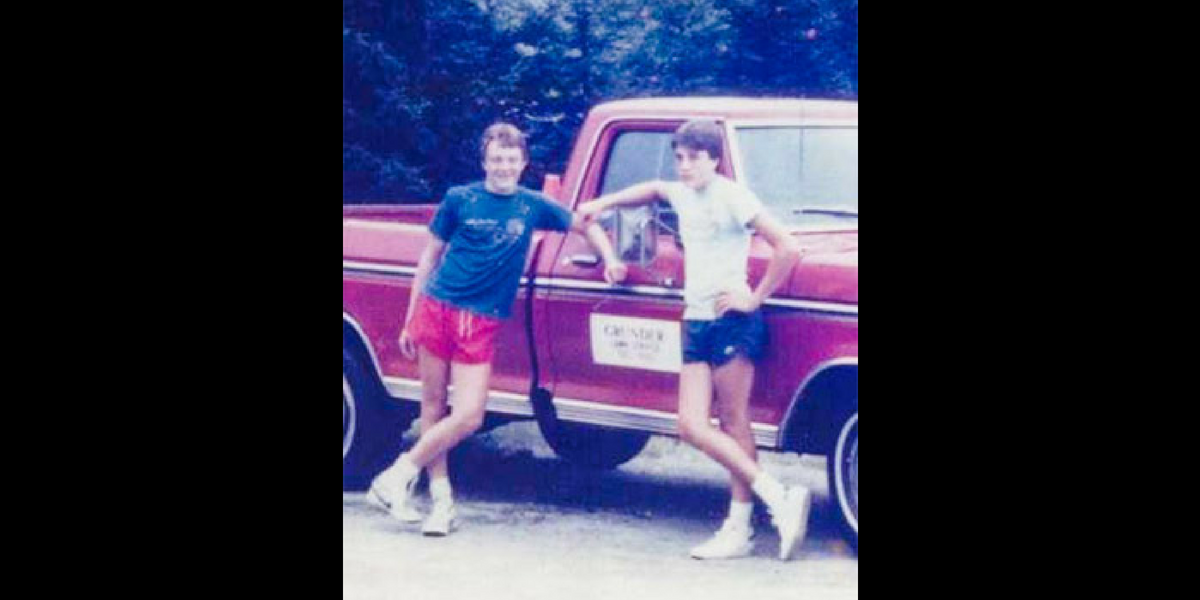 We all start somewhere! My brother, Rich, and I with the first Grunder Landscaping truck.
The best improvements we've made over the years to our trucks have been:
Branding
All of our trucks are the same shade of "Grunder Green", with all-white logos and our phone number on them. It's simple, classic, and effective. We keep our trucks clean and they always look professional in front of a job site. They're a calling card for our business.
Efficiency
We have custom-built toolboxes on our trucks to store the tools and handheld equipment that design-build crews need daily. Our maintenance crews have custom toolboxes as well, but they also have custom enclosed trailers to hold the additional equipment they need. This eliminates time our team would otherwise spend loading and unloading these items each day, instead they're locked and secured on the truck.
Safety
I'm obsessed with safety, and our trucks are no exception. We put lift-gates on trucks because they make work safer and faster, we only use pintel hooks and hitches for a more secure connection between trucks and trailers, and we have safety vests, pylons, first-aid kits, and other PPE on every truck. We are also meticulous with maintaining our trucks to ensure we're putting our crews on the road in safe vehicles.
These three improvements don't necessarily require a large financial investment, they just require thoughtfulness and intentionality when purchasing. Take stock of your own trucks this week: how could you improve your trucks' branding, efficiency, and safety?
Take a deeper dive into the truck set-ups we've perfected in our nearly 40-years and hear from other landscaping companies on what they've found works for them during our next virtual event, Trucking to Success. We'll have special guests from Milosi Landscape, Earth, Turf, & Wood, and Campbell Landscaping joining us to share their unique perspectives. You'll see up-close videos of the toolboxes, lift-gates, trailers, and bed set-ups each company uses as well as hear perspectives on how the teams make intentional decisions when ordering new equipment.
I hope you'll join us!