Rally Your Landscaping Team for the Year Ahead
Happy New Year, and welcome to 2023! We have a fantastic year ahead of us as landscape professionals, and I thought I would kick the year off by reminding you of our opportunities. I still think, even with economic uncertainty there, that we'll see strong demand for landscaping services this year. The most successful companies will be the ones prepared to go after the work they need and then efficiently do that work once it's sold.
At Grunder Landscaping Co., we're being proactive. Our rallying cry for the year is "Be the Buffallo: Charge into the Opportunity!" We're laying the groundwork this winter, in between snow events, for a successful 2023. That means planning for everything our team needs to be successful: technology, equipment, training, tools, and even additional team members.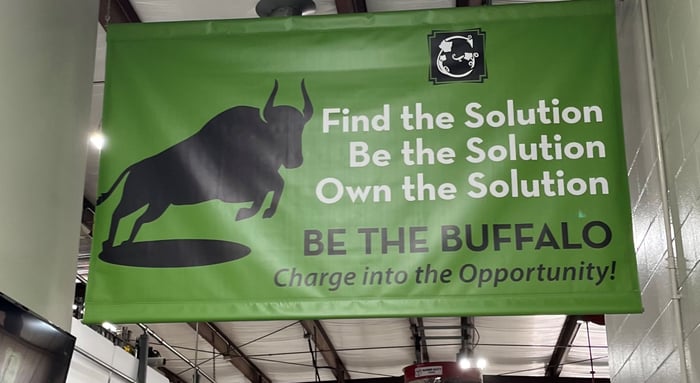 We're updating our training schedule and best practices, teaching our sales team some new closing techniques, and also doing maintenance on all of our equipment this winter so that when spring returns, we're ready to hit the ground running.
All three of those tasks I listed above are also keeping our team employed and busy year-round so that we can avoid winter lay-offs. So we're preparing to charge forward on the year ahead, and it has the added benefit of being a recruiting and retention tactic.
As many of you are doing, too, we're working hard to ensure we're fully staffed and ready to perform all the work we've already sold or are projecting we'll sell. It's our priority because we need additional team members to hit our goals. We're advertising our job openings and reminding the community that we offer four things to our team:
Well-paying jobs for any experience-level

Year-round work

Bonuses

Opportunities for advancement within the company
We aim to make it so inviting to new candidates that they can't pass up the opportunity to work with us, assuming they're the right fit for our company culture. Then once they're in the door, we want them to love their job and the place they work so much that they never leave. We do it by creating a great, fun workplace, paying our team well, treating our team with respect, and investing in their skills and career. Doing these things doesn't mean we have no turnover, but it sure does help.
I'll share more strategies, tips, and tactics you and your company can use to recruit and retain team members during our next virtual event, Finding & Fielding a Winning Team, on January 26. We'll have three one-hour live sessions to talk about the people who make your business run, one of my favorite topics. Join us to start your year off right.
Cheers to the year ahead and starting it off strong!

Marty Grunder
President & CEO
The Grow Group & Grunder Landscaping Co.
Sign Up to Receive our Weekly Great Idea to Your Inbox!